Solar Control Glass – Not Just for Roofs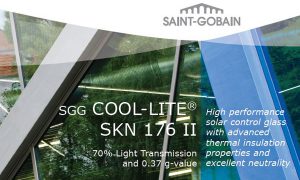 Do you have south facing windows that let in too much heat?
An easy solution would be to replace the double glazed units with solar control glass.
COOL-LITE SKN 176 II is a solar control product that features a high performance coating. The coating is applied to PLANICLEAR float glass by cathodic sputtering under vacuum conditions.
COOL-LITE SKN 176 II forms part of the ever-evolving range of 'to be toughened' neutral solar control coatings from SAINT-GOBAIN GLASS. In order to achieve its superior thermal properties, solar control properties and neutral appearance, COOL-LITE SKN 176 II must always be toughened or heat strengthened before assembly into a double-glazed unit (coating on face 2).
COOL-LITE SKN 176 II is a solar control coating for use in residential or commercial buildings, either for façades or overhead glazing. Due to the unique properties of the coating, it is ideally suited to applications requiring a high light transmittance, low g value and excellent neutrality
Available now in a 4mm version it is ideal for residential & commercial applications
COOL-LITE SKN 176 II balances the advantages of a high performance neutral solar control product with:
High light transmission 70%.
Low g-value, which reduces solar gain by as much as 37%.
Excellent U-value of 1.0W/m2K.
High degree of neutrality.
COOL-LITE SKN 176 II can be used to create more comfortable interiors by reducing overheating and the need for costly air conditioning, whilst at the same time noticeably reducing excessive heat loss.
The high light transmittance also reduces the requirement for interior lighting during daylight hours, helping reduce energy costs even further.
Free no obligation quotations across Cornwall and Devon
For more information on our window installations, please call us now
Categories: Uncategorized