Conservatories Cornwall and Devon
The quickest and most affordable option for extending your home is to add a conservatory – a luxurious glassed-in space that can be put to a variety of uses.
Here at Bude Windows we've been designing, supplying and installing conservatories in Cornwall and Devon for many years, transforming the homes of dozens of families into spacious, light, airy dwellings. Conservatories don't usually require planning permission, which makes this the ideal option for increasing your living area.
Traditional conservatories were little more than glass boxes, often with polycarbonate roofs which dulled and degraded over time – more of a hothouse than a usable home extension.
Modern conservatories however benefit from improved design, engineering and technology, both in the materials used to manufacture the frame and the glazing. Various features make it possible to keep your conservatory at an ambient temperature all year round, and you'll certainly be able to save on your energy bills during the winter months.
We at Bude Windows supply only the best quality aluminium and uPVC framed conservatories from top fabricators. We design the style and features of your conservatory in consultation with you, to ensure your extension will suit the purpose you have in mind, match in with the look of the house, and enhance your lifestyle.
The type of roof a conservatory has is the main factor that contributes to its thermal efficiency and sound insulation. The best choice, to ensure that your conservatory is able to be utilised as a real room extension, part of the house, all year round, is to top it off with tiled roof system. We specialise in installing the Guardian Tiled Roof System, and can demonstrate this to you if you visit our showroom at the Kings Hill Industrial Estate in Bude.
We also recommend the Celsius Elite Performance Roof Glass – blue tinted and treated to engender premium abilities. This amazing glass reflects around three times more solar energy than standard glass, and has a U-value of 0.9. It also reflects away 94% of harmful UV rays, allowing greater protection of your furniture and fabrics, while still letting in the natural light. Best of all, it has a special self-cleaning coating which enables dirt and grime to simply run off with a spray or when it rains.
Another roofing option we offer is the Ultrasky roof lantern. We are approved installers of these stunning, robust and thermally efficient roof lanterns, that are supplied in bespoke sizes to fit your extension.
The cheapest option for roofing your conservatory is still polycarbonate roofing, but the modern version of this old standby has improved performance features, such as blocking UV rays, being fire retardant, energy efficient, and extremely strong. Polycarbonate comes in clear form, allowing maximum light transmission; with a bronze tint to cut light transmission by 18%; or with an opalesque tint which cuts light by 40%.
If you are considering building a conservatory consult with us for professional advice. We'll help you achieve your dream extension on your available budget, leaving you with a lovely new living space to enjoy, adding value to your home.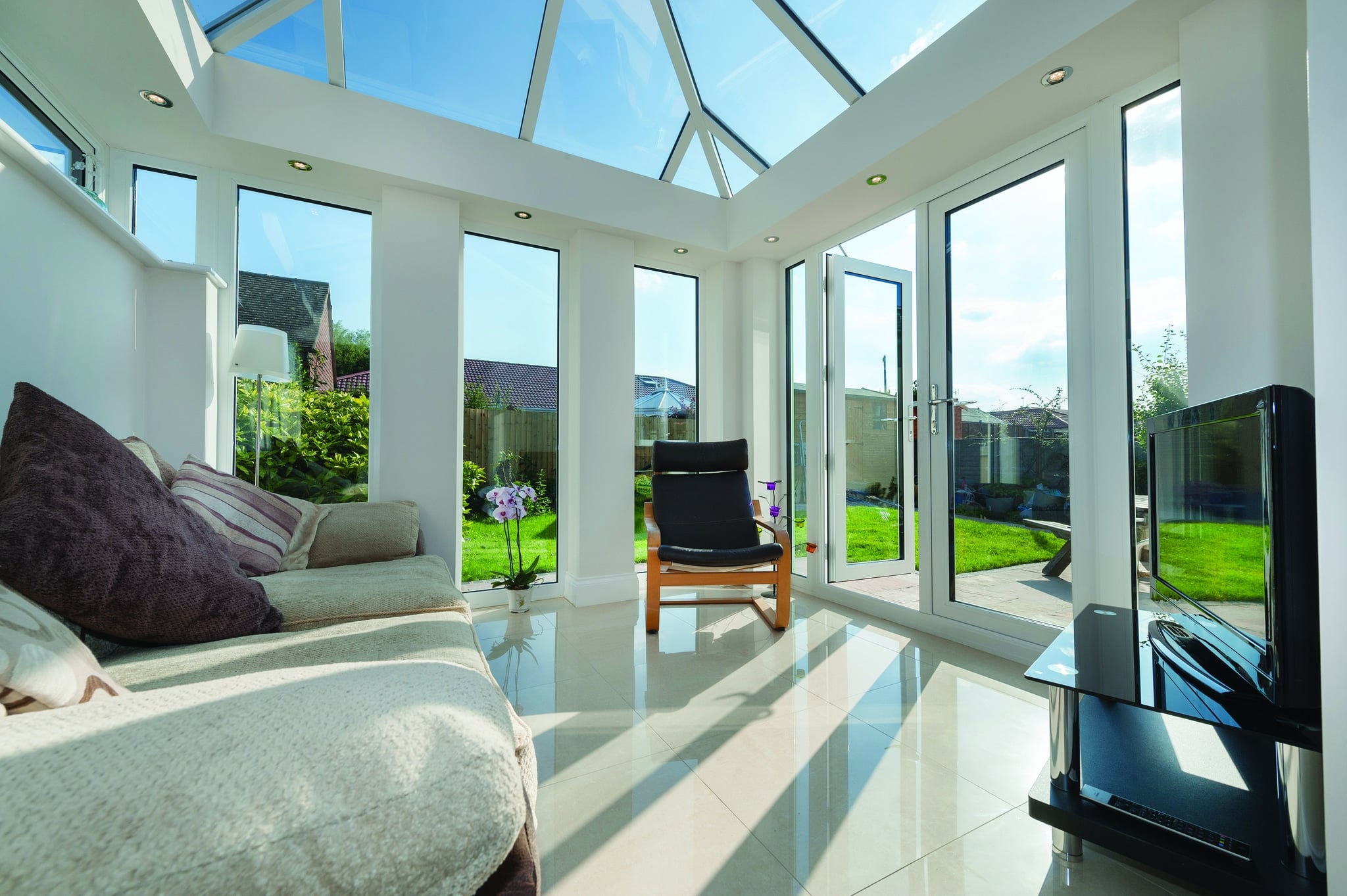 Visit our show room, or contact us to see how we can help you.  Call
Polycarbonate- this is a lightweight material which provides good insulation and is cheaper than
glass but not as transparent or sound resistant.


Celsius Elite Roof Glass- with its blue tint and improved abilities, Celsius Elite is the ultimate in
performance glazing.


Guardian Tiled Roof System- garden room roofs are rapidly becoming the desired choice for extended living, helping to make a real room extension that's part of the house.

Ultraframe Living Roof -Ultrasky Roof


Find Out More About Our Specialist Glazing Services…