MAKE YOUR NEW FRONT DOOR A SOLIDOR
The front door is one of the most used parts of a home and as such it is important to ensure it looks great. The right door can complete the look of your home and instantly improve the curb appeal of your property.
The problem with choosing a door however, is that there are many available options and competing products that can make the decision very difficult.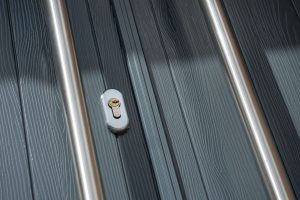 Doors can vary in terms of style, material and security and all of these have a dramatic impact on the overall quality of the door. One of the few types of doors that can provide sophisticated style, unbeatable materials and incredible security are called composite doors.
These front doors have numerous qualities that make them stand out from the pack, however, not all composite doors are created equal: if you really want the best then you need a Solidor composite door.
With a Solidor you get unbeatable security and longevity due to the premium range of materials and careful manufacturing process. In fact Solidor make the thickest and most thermally secure doors on the market which will ensure that your home is as safe and warm as possible.
To ensure even better green credentials, the cores of the Solidor are only made from recyclable materials.
A Solidor composite door offers industry beating colour options and customisation of your new door. There are so many unique colours that will ensure your home stands out from the rest, although the incredible design of a Solidor will pretty much have made sure of that already!
Call today for a brochure 0808 1000602
For more information on our window installations, please call us now
Categories: Uncategorized