ÜniSlide - strength, quality and security
Architects and interior designers are positively euphoric about the possibilities presented by the ÜniSlide panoramic door system, and no wonder!
ÜniSlide allows the owners of both residential and commercial properties to exchange the walls for glass, quite literally bringing the outside in, with only the thinnest of aluminium frames between the wide glazed panels to obstruct the panoramic illusion that there is no glass at all!
Imagine sitting snug behind an almost invisible wall of weathertight glass panels watching the snow fall all around you, or easily sliding them smoothly back on a beautiful summer's day to open your living space up to nature.
It sounds poetic – and it is! The British designers and manufacturers of the ÜniSlide system have created a product that combines simplicity, elegance and performance, independently tested to British and European Standards.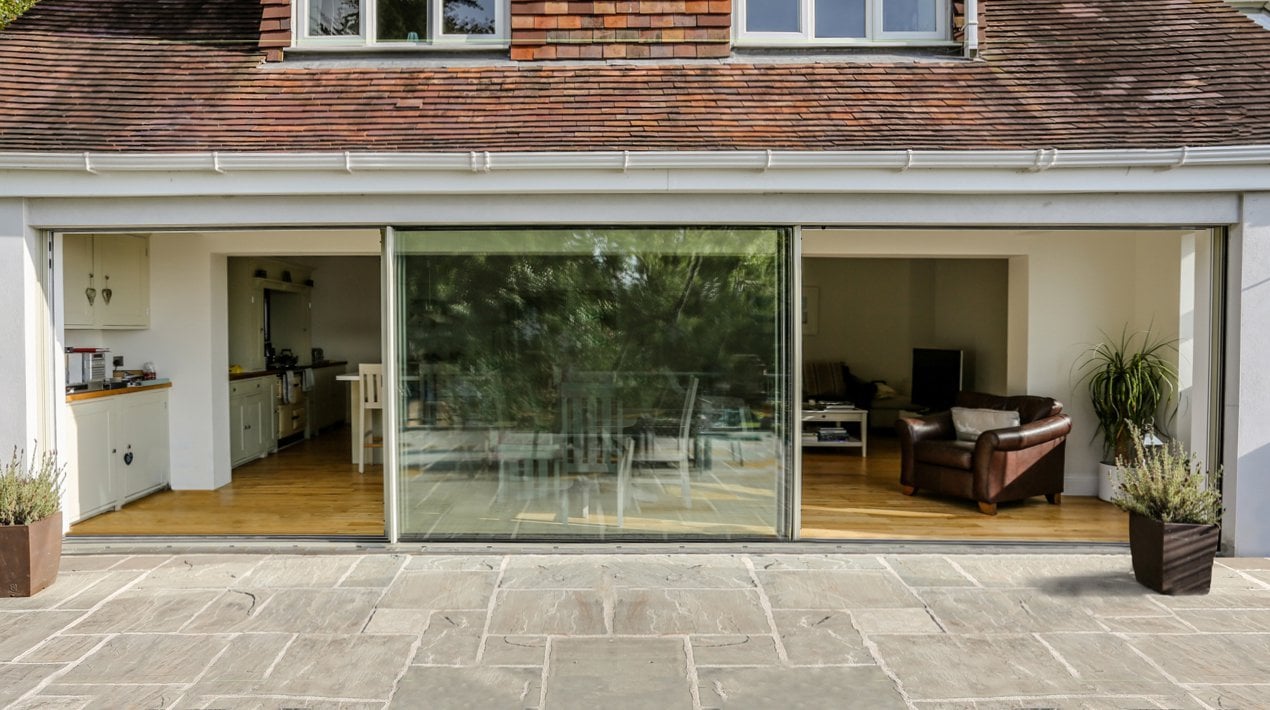 Visit our show room, or contact us to see how we can help you. Call
ÜniSlide - a leading manufacturer
Bude Windows is proud to be officially recognised professional installers of the ÜniSlide door system, covering the whole of Cornwall. We expertly fit ÜniSlide doors in both new builds and existing properties, adding a new dimension to the indoor space, value to the property and a whole new view of life for the occupants.
We are often asked whether ÜniSlide doors are a bit too flimsy, particularly when standing up to extreme weather. This is understandable because once in place these glass walls are held together by minimalist frames that can be as small as 20mm wide, with central interlocking mullions only 60mm wide. Don't be fooled, however – the slim frame belies the robustness of the system, and is the result of clever engineering.
All sorts of tests have been carried out: for example a 3m high ÜniSlide door has been safety tested to 2400Pa, equivalent to a wind speed of 141 mph (Hurricane Category 4 out of 5.
The system has also been proved to have remarkably efficient thermal properties, so you needn't fear the cold seeping in through or between the panels.
There is no limit to how many ÜniSlide panels (each 2.2m wide) can be linked together, and the aluminium frames can be powder coated to any colour you desire. Perfect for opening on to a patio, or dramatic for enclosing a whole building envelope.
The doors operate with ease, and are fitted with a fully functional euro cylinder lock, so you can be assured of the highest security. When you effortlessly slide the doors open you will feel the weight, strength and rigidity of the system, which is indicative of the superior quality of all the components and fabrication techniques.
All our clients to date who have had us install the ÜniSlide system have been delighted with the results.
If you would like to find out more about how ÜniSlide doors could change your perspective, get in touch with us for a no-obligation consultation. We'll be happy to explain all the specifications and construction techniques and show you some stunning examples of completed ÜniSlide door installations.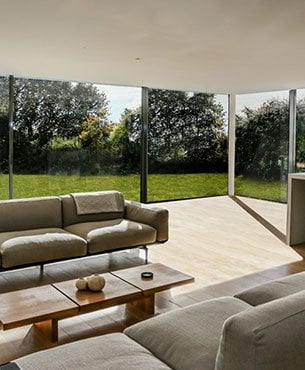 For more information on our Unislide installations, please call us now